Access to the Task List Items will be made available to you once you accept the offer and enroll in the program. The enrollment team relies heavily on your NYC Teacher Admissions Portal Task List Items to monitor your onboarding progress. This is meant as a self-monitoring tool to help and support you, along with your New York State TEACH account. Your ability to begin training is contingent upon having an up-to-date Task List and meeting all deadlines.
It is critical that you update us as you finish each step by logging into your NYC Teacher Admission Portal, inputting information, and uploading documentation where required so we can support your completion of these steps.
How do I navigate the Task List Items?
Necessary Documentation: Some Task List items will ask you to input information and upload supporting documentation, while others will only require you to upload documents.
Self-Check vs. Non-Self-Check: You may check off certain items yourself - like ordering your official transcripts. These do not need to be reviewed by program staff, while many items, such as test results, require verification by program staff before they can be marked complete.
Double-click on each item for more information: Each item has detailed directions that appear when you double-click. Some items also have helpful links and videos.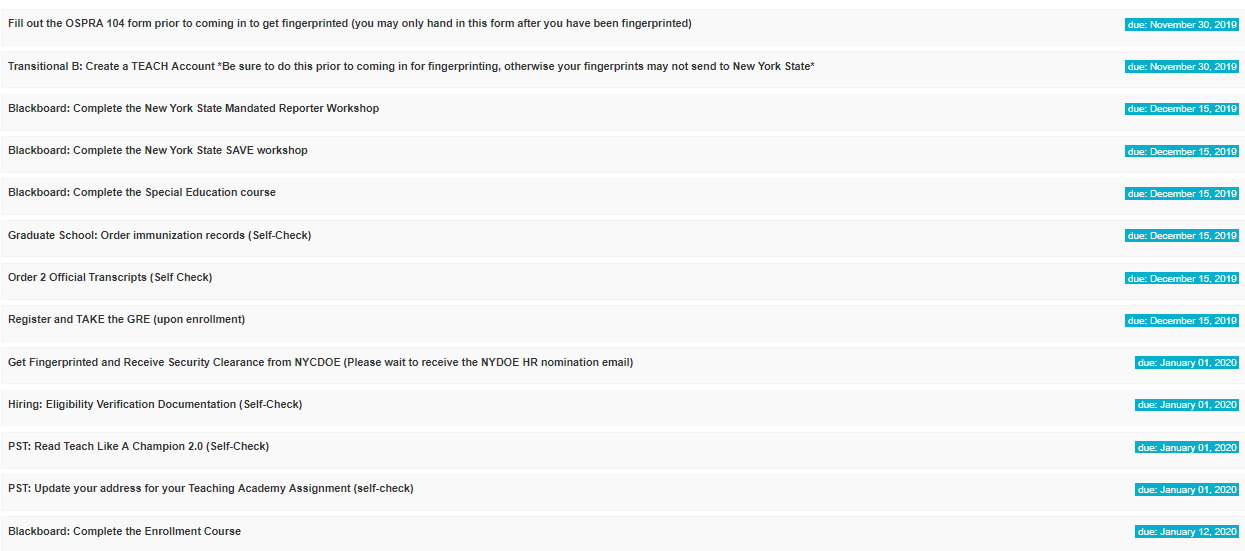 Click on each Task List item for a detailed description and more information.