Teaching Academies are located across the Bronx and Brooklyn, with a few in Queens and Manhattan as well. There are no Teaching Academies located on Staten Island.
Teaching Academy placement aligns with NYCTC's goal of placing Partner Teachers in schools where they are needed the most. The map below indicates our previous Teaching Academy locations. As you see from the Teaching Academy map, schools are typically in the Bronx or Brooklyn, though locations vary from year to year.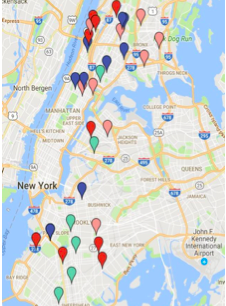 When preparing for your school placement, we recommend building in additional time for travel, as the majority of PTs travel around 90 minutes to get to their Teaching Academy each morning. While this can be challenging, we appreciate your flexibility and commitment to NYC students.
Teaching Academy assignments will be sent out in January, around the first week of training. They are based on a number of factors including your subject area, location, and the needs of the school.
We are unable to honor a PT's request to be placed in a particular Teaching Academy.